Meet Linda Lawler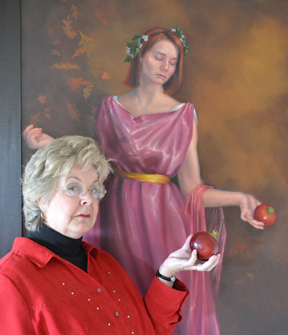 American Realist Painter Linda Lawler works mainly in oils, but is also a skilled draftsman, watercolorist, and pastelist. Her style is very detailed, much like the style of the Dutch Masters.
As a young woman, Linda embarked on a course of self study, teaching herself to paint while advancing her career with the United States Postal Service and raising a family. She studied portraiture with Danni Dawson and Robert Liberace at The Art League School in Alexandria, VA. Linda believes an artist's education can never end and so continues her academic self study program as a Registered Copyist at the National Gallery of Art in Washington, DC. Most recently, she has broadened her repertoire and branched out into the field of Science Fiction and Fantasy Art, studying with Donato Giancola and Dan Dos Santos. She frequently participates in intensive workshops, such as the Illustration Master Class at Amherst College in Massachusetts.
While Linda's main focus is figural and portrait art, her landscapes and still life work have been featured in solo exhibitions and have received numerous awards in juried competition.